Shades
Bay Screens and Shades carries a full range of window shading solutions. We carry sheer shades that provide privacy while still permitting light to enter. Solar Screen Shades act like sunglasses for your windows, reducing glare while allowing excellent view to the outside. We also offer popular new styles of natural material shades and woven wood shades, and the full line of Hunter Douglas premium window shading products including: woven wood shades, brilliance shades, linings, roman shades, vignette and duette honeycomb shades.
Roller Shades
Conventional rolling shades, which today come in a variety of colors, opacity and textures, offer a no-nonsense approach to window privacy and light control, and can be customized in several ways to enhance their practicality. When deployed, they provide a smooth and uncluttered look, and while opened, require only a minimum of stacking space. In addition to familiar rolling shades, Bay Screens and Shades can also show you an array of new and innovative rolling shades, some of which can provide you with UV sun protection and an outdoor view even while closed!
Manual: Let a Bay Screens and Shades consultant show you all that is available in manual draw mechanisms, plus directional options that let you add privacy from the window top down, or the window sill, up!
Motorized: Many rolling shades can be motorized, with remote control an option as well. Bay Screens and Shades can customize a system just for you, for a single window or many even for large, long windows, and those that are difficult to access. Click here for more information about motorized shade solutions.
Woven Wood Shades
Made from select natural woods, including reeds, bamboos and grasses, Provenance® woven wood shades are uniquely textured, adding casual good looks to any room. When lowered, these woven wood shades lie flat; when raised, the woven woods hang in even, overlapping folds. Let us show you how natural beauty can enhance your window decor with a complimentary in-home consultation.
Brilliance® Pleated Shades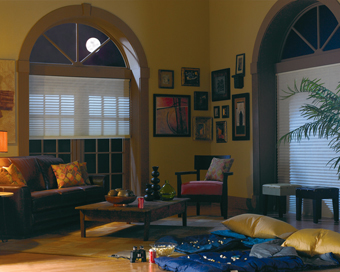 Brilliance® pleated shades feature crisp, pleated fabric in an extensive selection of colors and styles, including weaves, patterns and textures. Our offerings range from elegant polished satin-looks for a formal look, right through to a collection of juvenile prints that will add charm and whimsy to nurseries and children's rooms. Optional backings are available for increased privacy and energy efficiency. Ask to see all that's possible when you call for a free in-home consultation!
Lining Options
Left to Right: Standard, Privacy Liner, Blackout Liner, Duo Shade
Standard: The standard shade configuration is unlined as shown above. Most patterns gently filter light. Privacy Liner: A light beige lining is expertly sewn to the back-side of the shade. This provides full privacy and a uniform light color facing the street. Blackout Liner: A white blackout lining is expertly sewn to the backside of the shade. This blocks almost all light coming through the material. Duo Shade: A roller shade behind the Roman shade is available in privacy (shown) or blackout fabrics. Makes any shade private as you wish - perfect to pull down at night.
Roman Shades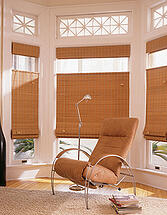 Woven Woods: We offer a wide range of beautiful natural and manufactured faux materials in an assortment of roman shade styling. All shades are hand-crafted from rich reeds, grasses and bamboo from around the world, or remarkably natural-looking man-made materials that duplicate the artistry of nature. Innovative design, dedicated craftsmanship and high quality standards ensure that we will install a truly superior product to enhance your home decor. Ask one of our consultants for a complimentary showing of our Woven Wood Collections.
Fabric: Roman shades created in fabric add a luxurious look to any window. Bay Screens and Shades carries an extensive library of fine fabrics in shades, patterns, weaves and styles sure to meet any of your Roman Shade design needs. Let our in-home experts give you a fabric presentation, arranged chromatically to help you visualize the amazing possibilities, making design coordination quick, easy and fun!
Sheer Shades: Whether you are dealing with a small window, a very large window, a greenhouse, a sloped or curved glass surface, or an overhead skylight, Bay Screens and Shades has a product to meet your needs. Our Sheer Shade product combines two vital ingredients, innovative design and a great range of fabrics, to bring you practical and elegant solutions for virtually any solar shading need.
Vignette Shades
Graceful overlapping folds of soft fabric define innovative Vignette® window shading from Hunter Douglas. The soft layers of fabric won't wrinkle or flatten, whether lowered or raised even tucked away inside the fabric-covered headrail. With their flat, neutral backing, they look as beautifully finished from outside as they do inside, and offer variable degrees of privacy and light control, too. Ask to see samples of Vignette® shadings in our showroom, or have our in-home consultant give you a demonstration!
Duette Honeycomb Shades
Duette® honeycomb shades come in sheer, semi-sheer, semi-opaque and opaque fabrics to give you a choice in light control. Distinguished by a crisp, clean style, the honeycomb construction of these soft, yet durable Duette shades available in single, double and triple honeycombs make them highly energy efficient. State of the art lifting systems are also available for easier operation and enhanced child safety. Let us show you how beautiful and cost-effective light and energy-loss control can be call and request a complimentary in-home showing!