Blinds
Horizontal blinds are ideal for windows that are taller than they are wide and are raised and lowered. You can choose window coverings made from premium hardwoods, a blend of hardwoods and composite materials or aluminum. Make your selection here and we will take you to the product details.
Country Woods Blinds
Precision crafted from the finest North American hardwoods, including genuine oak, ash, cherry and Brazilian cherry, our Country Woods® Genuine Woods blinds exude tradition and character. The warm wood tones of these horizontal blinds enhance any room, be it a bookcase-lined home office, a country kitchen or a tailored bedroom. Let us bring our selection of samples to you, and we'wiill match whatever d?©cor style and color you require!
Silhouette Blinds
Versatile Silhouette® window shadings suspend fabric vanes between two sheer fabric facings and offer a wide selection of elegant fabrics and optional features. The suspended vanes tilt with precision, giving you total light control and privacy. When fully raised, Hunter Douglas Silhouette window shadings completely disappear into the headrail for an unobstructed view. In addition to two-inch and three-inch vane sizes, this innovative window covering is now available in the new Quartette'™ four-inch vane size, offering a more expansive view than ever before. Let us give you a complimentary in-home demonstration!
Aluminum Horizontal Blinds
Bay Screens and Shades offers a range of aluminum blinds. From the industry's most sophisticated aluminum blind, our Lightlines® 1/2" and 1" blinds from our Modern Precious Metals'™ family of aluminum blinds feature an extensive array of colors, textures and finishes, and come with a light-blocking feature for maximum light control and privacy. Or, a more economical choice, our Celebrity® aluminum mini blinds from our Modern Precious Metals'™ family of aluminum blinds come with our exclusive "bounce-back" slats which stand up to the roughest treatment.
Cadence Vertical Blinds
Our Cadence® Soft Vertical Blinds offer soft, translucent vanes, providing elegant styling and excellent sound absorption. We'will show you a wide array of colors and textures perfect for any room that requires both privacy and outdoor light, as well as beauty and space-saving convenience. Customize your Cadence® Soft Vertical blinds with custom top treatments, motorization, directional draw orientation and more for your specific needs!
Vertical Blinds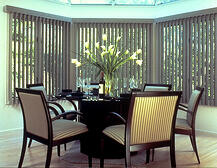 An economical choice, our Vertical Solutions® line offers dozens of beautiful styles and colors. These blinds work particularly well in rooms with contemporary furnishings and are the perfect design solution for unifying sliding glass patio doors. Also, the exclusive headrail keeps vanes perfectly aligned for superior light control and smooth operation.
Skyline Gliding Window Panels
From contemporary to traditional, Skyline'™ Gliding Window Panels set a new standard in modern window fashions providing a sophisticated look to match today's urban design influence. Skyline window panels feature a wide range of fashion forward fabrics, offered in five distinctive categories, a patented innovative hardware system and custom colored hardware designed to coordinate with each fabric in the collection.