AIA Lunch and Learn
AIA/CES Registered Provider Program Summary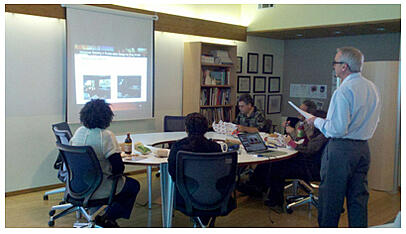 Provider: Bay Screens and Shades
Program: Motorized shading and sustainable design
Length: 1 Hour
Credits: 1 LU/HSW
Description: This course covers the components of a rolling shading system and discusses the fabrics, hardware, pockets, wiring and controls of the system. We specifically deal with design and engineering at the site and extensively discuss the benefits of shading fabrics regarding light control, comfort, glare reduction and heat reflection.
5 Learning Objectives
To understand the basic and advanced components of motorized shading and know how to write specifications.

To understand and discuss specs to clients and peers.

To know differences and benefits of product components and understand fabric performance.

To learn and discuss light control solutions, the differences, benefits, details and costs with clients to create sustainable designs. Thus solving light control issues in the modern home in new construction and in remodels.
Presentation Format: There is a PowerPoint used for this presentation. We also bring various motorized hand held samples of actual window covering products, which are demonstrated and explained.
A/V Needed: Computer, Projector and Screen, desired, but not mandatory.

Target Audience: Architects, Interior Designers, and Specification Writers and other design professionals in the commercial, retail, residential, hospitality, healthcare, to name a few.
Facilitator Qualifications: Bay Screens and Shades serves the commercial and residential markets for over 25 years. The owner Greg Amato, is well known in the industry as an expert, in motorized window shading systems for interior and exterior applications, including, drapery design, fabrication and installation.

Cost
There is no cost to bring this program to your company or group meeting. Lunch is also provided.

For more information:
Fill out the form to your right or email us at greg@bayscreensinc.com